Spanish, Mexican, and American California:
Reframing U.S. History at Peralta Hacienda
An NEH Landmarks of American History and Culture Workshop for School Teachers


The Peralta Hacienda Historical Park hosted two week-long Teachers' Workshops, funded by the National Endowment for the Humanities in June 2012. The workshops welcomed teachers from all grade levels and instructional backgrounds as a means to foster interdisciplinary discovery.

As a Summer Scholar, teachers had the opportunity to re-discover contemporary America through a new lens. Oakland's Peralta Hacienda Historical Park, on the east side of San Francisco Bay, highlights the important role of Mexico in the shaping of U.S. history. The park is named after the Peralta family, who came to California on the historic Anza expedition in 1776, just a few months before the Declaration of Independence was signed in Philadelphia. The site became the headquarters of their 45,000-acre cattle ranch, through the Spanish, Mexican and early American periods.
The San Francisco Bay Area and Oakland's vibrant, multicultural Fruitvale neighborhood offered a rich learning environment for Summer Scholars.
Top: A painted gate depicting four seasons on
the ranch.
Bottom: The Center for History & Community,
home base for workshop activities.
Eminent scholars will engaged participants in an active learning experience. Additional sessions included artists, filmmakers, former farmworkers, and others.
Holly Alonso & Alex Saragoza
Workshop Co-directors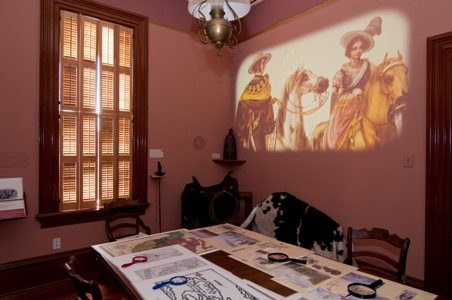 Luminous images of early California inhabitants are
projected in The Peralta House Dining Room.