Park History .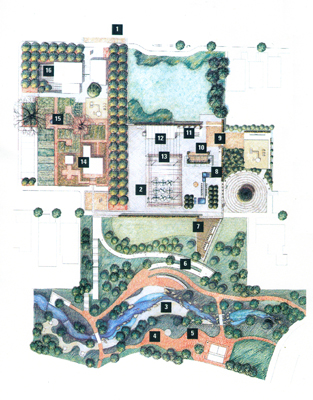 Friends of Peralta Hacienda Historical Park (Friends) has worked since the late 1970s to establish the six-acre park, which opened to the public in 1996. Friends has lobbied successfully for over $6M of state and local funding to create the park, parcel by parcel, throughout a 20-year period.
The goal was: 1) to create open space in a district with the lowest per capita open space in Oakland and the highest percentage of children; and 2) to rescue and interpret the history of the once vast Rancho San Antonio, a 45,000 acre land grant to Luis Peralta in 1820, and the historic Antonio Peralta House which stands on the site.
The park was chosen as one of ten projects nationwide to receive funding for planning from The National Endowment for the Humanities in 1999. Eminent historians, landscape architects, museum and interpretative experts, educators, Friends' staff, and community representatives all came together to develop a new design for this historic landscape which reflects its regional and national significance, and to begin to plan its interpretive programs.
With completion of the house restoration in 2001, Peralta Hacienda Historical Park entered a new phase of development that focuses on landscape development, creating exhibits for the Peralta House and interpretive programs for the whole site.
Friends of Peralta Hacienda Historical Park offers an environment for the enjoyment of the community, where neighbors as well as visitors from the region, state, and nation can be actively involved in its historical and natural features through performances, celebrations and educational workshops and programs. The City of Oakland, the Fruitvale community, and Friends of Peralta Hacienda Historical Park are proud to be part of the development of this historic site and look forward to its future evolution.